Exclusive Offer: March & April 2020 AMA River Cruises
2 for 1 cruise fares with airfare included – limited cabins remaining!
Rates increase March 1st – call now to take advantage of this offer (303)730-2225
or join our free membership program for more information
Sample Itinerary - Enchanting Rhine
Grand cities blend in perfect harmony with their historic past and their progressive future. Zurich's medieval houses, narrow lanes and town halls from the Renaissance period offer a striking backdrop to its trendy and ultra-modern metropolis. And Amsterdam's Golden Age melds seamlessly with its lively cafés, exciting nightlife and glorious museums. Inspirational towns have given way to great stories, poetry and music—Heidelberg, where Mark Twain wrote "A Tramp Abroad." Timeless traditions remain intact—from the making of Kölsch, Cologne's legendary brew to the making of Rüdesheimer Coffee. Take a front-row seat on an enchanting journey that takes you along the Rhine and through its designated-UNESCO World Heritage Site with its 40 castles strung like pearls on its river banks and to magnificent cities and charming villages alike.
COUNTRIES: 
FRANCE, GERMANY, NETHERLANDS, SWITZERLAND
On our cruises, you will enjoy an extensive lineup of included tours. In many cases, you will have a choice of excursions, such as standard tours, bike tours, hikes and Special Interest Tours. We always include a large variety of activities so that you can choose how you want to explore. No matter your preference, your days will be full of discovery and wonder.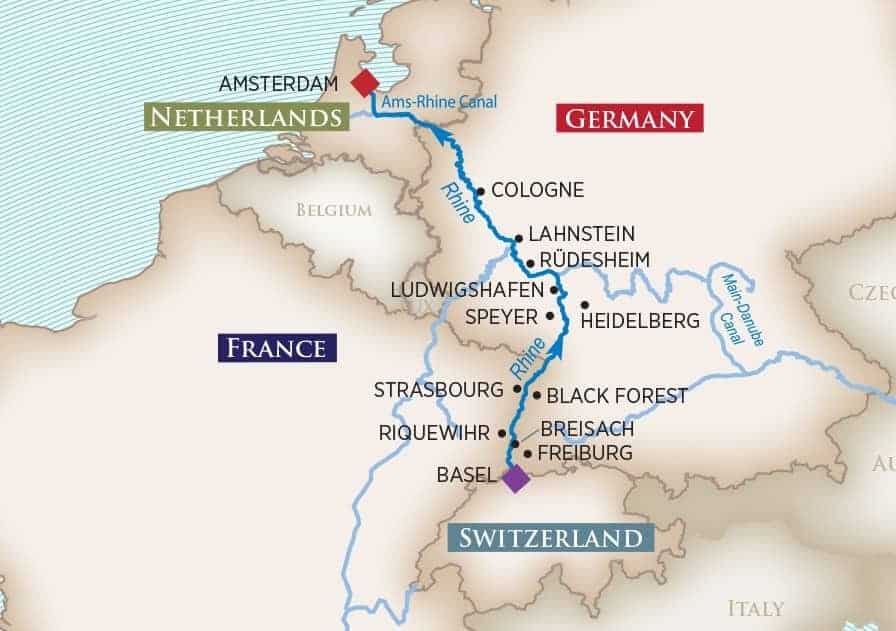 Sailing Itineraries & Dates
Click on the itinerary name for more details
| | | | |
| --- | --- | --- | --- |
| Itinerary Name | Ship | Embark Date | Disembark Date |
| Taste of Bordeaux | AmaDolce | Mar 19 | Mar 26 |
| Melodies of the Danube | AmaLea | Mar 21 | Mar 28 |
| Tulip Time | AmaPrima | Mar 22 | Mar 29 |
| Melodies of the Danube | AmaViola | Mar 23 | Mar 30 |
| Rhine & Moselle Splendors | AmaDante | Mar 26 | Apr 2 |
| Romantic Danube | AmaSonata | Mar 27 | Apr 3 |
| Magna on the Danube | AmaMagna | Mar 29 | Apr 5 |
| Romantic Danube | AmaViola | Mar 30 | Apr 6 |
| Vineyards of the Rhine & Moselle | AmaDante | Apr 2 | Apr 9 |
| Melodies of the Danube | AmaLea | Apr 4 | Apr 11 |
| Melodies of the Danube | AmaCerto | Apr 5 | Apr 12 |
| Taste of Bordeaux | AmaDolce | Apr 9 | Apr 16 |
| Vineyards of the Rhine & Moselle | AmaDante | Apr 9 | Apr 16 |
| Paris & Normandy | AmaLyra | Apr 9 | Apr 16 |
| Charms of the Mekong | AmaDara | Aug 3 | Aug 10 |
| Riches of the Mekong | AmaDara | Aug 10 | Aug 17 |
| Charms of the Mekong | AmaDara | Aug 17 | Aug 24 |
| Riches of the Mekong | AmaDara | Aug 24 | Aug 31 |
| Charms of the Mekong | AmaDara | Aug 31 | Sep 7 |
| Riches of the Mekong | AmaDara | Sep 7 | Sep 14 |
| Charms of the Mekong | AmaDara | Sep 14 | Sep 21 |
*Valid only on new bookings made between February 1 – 29, 2020